Sheffield National Masters - October 2012
A small team of swimmers represented Stroud Masters at the recent National Masters Swimming Championships held at Ponds Forge International in Sheffield.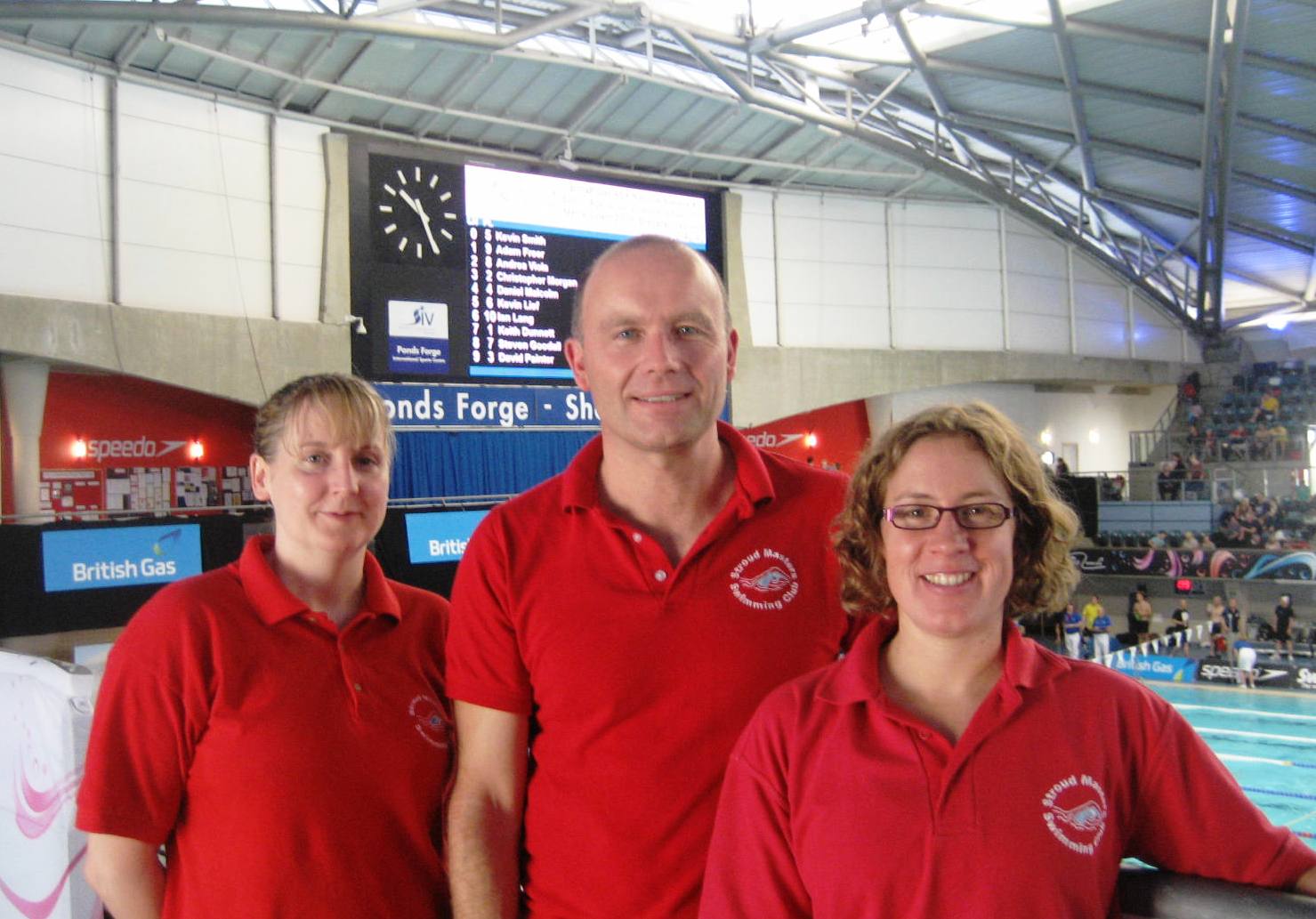 Kerrie Aldridge, Mark Patridge, Jessica Wooddisse
Backstroke specialist Kerrie Aldridge narrowly missed out on a national medal in the sprint event finishing in 4 place and secured 5 and 6 place finishes in the 100 and 200 metres backstroke events.
Mark Partridge won a bronze medal in his best event, the 50 metres breaststroke. He also gained two personal best times, one of which was in the 100 metres breaststroke where he finished in 5 position.
Jessica Wooddisse took golds in the 800 and 1500 metres freestyle events and achieved 2 silver medals in the 400 metres freestyle and individual medley events. They will be joined by other members of the team at the Etwall Eagles Open Meet later in the month.
| Swimmer | Event | Time | Position |
| --- | --- | --- | --- |
| Jessica | 1500 F/S | 18:22.96 | 1st |
| | 400 IM | 5:39.90 | 2nd |
| | 800 F/S | 9:46.42 | 1st |
| | 400 F/S | 4:46.78 | 2nd |
| Mark | 50 brst | 32.88 | 3rd |
| | 50 fly | 29.42 | 5th |
| | 50 F/S | 27.31 | 9th |
| | 400 F/S | 4:59.74 | 10th |
| | 100 F/S | 1:02.74 | 15th |
| | 100 brst | 1:14.10 | 5th |
| | 800 F/S | 10:50.99 | 9th |
| Kerrie | 200 back | 2:35.77 | 5th |
| | 50 fly | 34.66 | 17th |
| | 100 back | 1:11.14 | 6th |
| | 50 back | 32.52 | 4th |
| | 100 IM | 1:14.90 | 11th |