Gloucester County Open Water Championships, Henleaze Lake - July 2011
A team of 4 Stroud Masters swimmers travelled to Henleaze Lake in Bristol for the annual 2000 metre Gloucester County Open Water Championships where competitors are not permitted to wear wetsuits.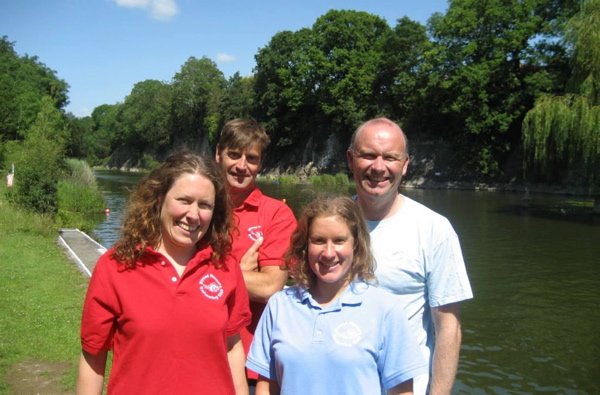 Back: Sean Kinsey, Mark Partridge Front: Lorraine Savagar, Jessica Wooddisse
Jessica Wooddisse put in an exceptionally strong swim to finish in second place overall and took gold in her age group setting a new age group record by 30 seconds. Encouraged by her success at the Tri-Ferris swim the previous day, Lorraine Savagar raced in this event for the first time and finished 2nd in her age group. .Also finishing 2nd in his age group and improving significantly on last year's time was Mark Partridge. Mark was beaten by team-mate Sean Kinsey who was 2nd male overall in the race.
The next challenge for most of the team will be a 3.8km sea swim at Bournemouth.
Henleaze 2k swim
Jessica Wooddisse - 27:05.60 1st
Sean Kinsey - 27:43.32 1st
Mark Partridge - 31:06.67 2nd
Lorraine Savagar - 35:44.05 2nd