Tri Ferris Big Swim - July 2011
On 9th July a team of 4 swimmers from Stroud Masters tackled the 1 and 2 mile Tri Ferris Big Swim.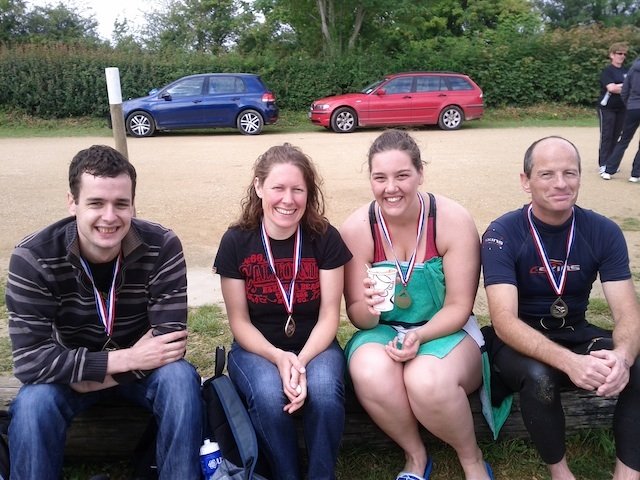 William Lee, Lorraine Savagar, Helen Legg, Lewis Saunders
Returning for the 1 mile event after their 2010 debut were Lorraine Savagar and Will Lee. Lorraine, now a regular open water swimmer, arrived at the event relaxed and with breakfast in hand whilst Will, through a combination of hardiness and accidentally misplacing some equipment, elected to swim without a wetsuit. On a different route to the previous year Lorraine recorded a new personal best of 24 minutes 21 seconds (an improvement of over 7 minutes) and Will recorded a personal best of 26 minutes 44 seconds (an improvement of over 2 minutes).
The 2 mile event attracted 2010 veteran Lewis Saunders and Big Swim newcomer Helen Legg. Lewis recorded a personal best of 56 minutes and 21 seconds (over two minutes faster than 2010) showing the steady progress that Lewis has made to his swimming as part of his Triathlon driven training. Helen came to the event after a very short break from her usual swimming routine to record a very competitive time of 52 minutes and 35 seconds- perhaps showing the makings of another Stroud Masters Open Water regular!
Results :
1 mile:
Lorraine Savagar - 24 minutes 21 seconds (14th place)
William Lee - 26 minutes 44 seconds (28th place)
2 mile:
Helen Legg - 52 minutes 35 seconds (45th place)
Lewis Saunders - 56 minutes 21 seconds (66th place)